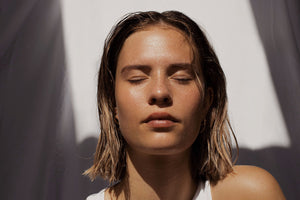 The Natural Africa Routine: 4 step botanical skincare routine for all skin types
Whatever your skin type, one thing's for sure, it deserves the best.
Unlocking the secret to radiant, hydrated, and healthy skin can often feel like chasing a mirage. But what if we told you that the key to achieving your best glowing skin lies in the bountiful treasures of the African continent? Welcome to "The Natural Africa", where we embark on a journey through Africa's exceptional skincare routine, enriched with potent medicinal plants sourced sustainably across the continent. In this blog post, we'll guide you through five transformative steps to elevate your skincare game and unveil your skin's natural radiance.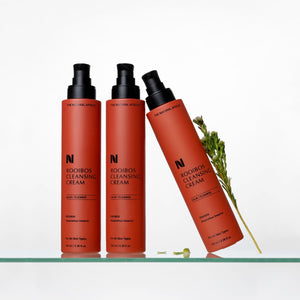 Step 1
CALM / CLEANSE WITH ROOIBOS AND ALOE
Picture this: A gentle cleansing cream infused with the richness of natural oils and plant extracts that purify and moisturise your skin, leaving it refreshed and hydrated. Our Rooibos Cleansing Cream, boasting ingredients like Aloe Ferox, Rooibos, Marula, and African immortelle, is your first step towards skin nirvana.
Rooibos, a true African gem, is brimming with antioxidants, including Quercetin, which possesses potent anti-inflammatory properties. It soothes skin conditions like eczema, psoriasis, and dermatitis, while its natural AHA and zinc content work wonders on acne-prone skin. Say goodbye to impurities and hello to a rejuvenated, glowing complexion.
Step 2
NOURISH / RESTORE WITH ALOE SERUM
Moving on, we have the Cape Aloe serum, a unique blend of African botanicals armed with superior antioxidants. This serum not only amplifies hydration but also seals in moisture, leaving your skin luxuriously soft.
Aloe Ferox, a cousin of Aloe Vera, takes centre stage in this serum, offering higher quantities of vital properties like Aloin—an antioxidant and viral stimulant that enhances skin repair and healing. The serum's rich blend, including Devil's Claw, Jojoba, Rose Geranium, and Hyaluronic Acid, promises to elevate your skincare game to new heights.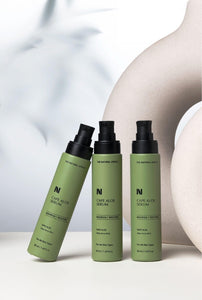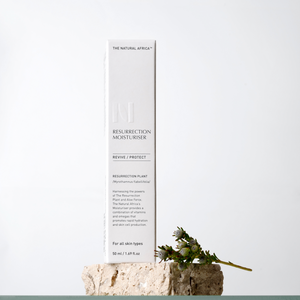 Step 3
REVIVE / PROTECT WITH RESURRECTION
Our third step introduces the Resurrection Plant, a moisturiser that combines the power of vitamins and omegas to promote rapid hydration and skin cell production. This miraculous plant, along with Aloe Ferox, Mongongo, Baobab, and African Mahogany, brings forth a blend that your skin will thank you for.
Resurrection plants offer antioxidant, anti-inflammatory, and anti-carcinogenic compounds, safeguarding your skin from free-radical damage and natural ageing processes.
Step 4
REJUVENATE / HYDRATE WITH ROSEHIP
Now, let's talk about the magic of Rosehip. This light, non-greasy formulation is rich in vitamin C, a key player in protecting your skin against environmental pollutants and boosting collagen formation. Its benefits extend to smoothing fine lines and promoting overall skin health.
Prized since ancient times, 100% cold-pressed Rosa Canina Oil, the active botanical in this step, delivers essential fatty acids, vitamins, antioxidants, and natural trans-retinoic acid (a derivative of vitamin A). These components work together to rejuvenate skin cells, reduce wrinkles, fade fine lines, and improve skin tone—truly a skincare gem.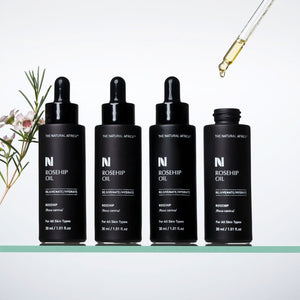 IN CONCLUSION
Achieving your best glowing and hydrated skin is no longer an elusive dream. With The Natural Africa's exceptional skincare routine, infused with the power of African botanicals, you can unlock your skin's true potential. Remember, consistency is key, and customisation based on your skin type and specific concerns is crucial. So, embark on this African journey, and let your skin reveal its radiant and natural glow.
Shop Natural Skincare
Indulge your skin in African Botanicals
Shop our botanical skincare range, made from the natural ingredients of Africa. Find your glow, made for all skin types.
Shop now