MEET THE NATURAL AFRICA™ FOUNDERS
"WE BELIEVE IN AFRICA, ITS BEAUTY, WISDOM, AND RESILIENCE."
The Natural Africa, a pioneering beauty brand made with powerful medicinal plants, was founded in the Western Cape, South Africa, home to the Cape floral kingdom - one of the richest areas in the world for plant biodiversity. Most 8,500 plant species are native Fynbos vegetation covering the region's magnificent mountains, lowland valleys and coastal plains. As passionate, creative founders and friends inspired by the rich heritage of African pharmacology, Catarina and Andrew dovetailed their expertise in skincare and marketing, and The Natural Africa was born.

The Natural Africa fully embodies what it means to be sustainable, mindful and faithful to its name. In being determined to deliver only 100% natural formulations, the pair have stayed true to ethical, wild-harvesting only.

"We live for days spent in nature and seek pleasure in discovering more about her powers. We live as naturally as possible and want others to be part of the discovery."
- Founders.
Catarina de Avillez | Founder
Catarina has roots in Portugal and South Africa, with relatives who are descendants of the original Rooibos farmers in South Africa. "I grew up learning about Fynbos plants and their powerful applications and nourishing benefits. Then, in December 2019, I visited Hermanus, in the Western Cape, as I did every year, and it dawned on me that I needed to launch a uniquely Southern African botanical skincare range. With my experience in the luxury beauty industry in the UK, I realised there was a genuine need for Southern African botanicals in skincare. So I combined my nomadic lifestyle, ambition for discovery, and the last 12 years in the luxury beauty industry to create something truly magical, an ode to the abundant fauna of South Africa."
"Our time-tested botanicals are carefully sourced from Southern Africa and packed with active natural ingredients to treat your skin. Our highly concentrated skincare formulations will truly nourish and care for your skin." - Catarina De Avillez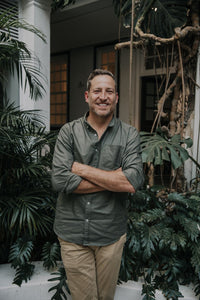 Andrew Franks | Founder
Andrew Franks is a purpose-driven creative entrepreneur,  natural fan, family man and adventure enthusiast. Andrew discovered the power of African medicinal plants back in 2014 while on a Kilimanjaro expedition when he fell sick with a chest infection at 5000m high altitude with rain for days only 5 hours from Summit. With altitude sickness, he was forced to head back down to 3000m and then back. After trying multiple antibiotics with no results, he was looking for natural alternatives and was introduced to African Geranium (Pelargonium sidoides), a herb that has been used in traditional medicine in South Africa for centuries, it's a  plant-derived pharmaceutical used to treat acute bronchitis. This was the only medicine that helped him to get better, and since then, he was converted, what followed was the launch of an exclusively African Herbal range and African Botanical skincare ranges.
"We pride ourselves in sustainably sourcing the best botanicals from across Africa, packed with active natural ingredients to nourish and care for your skin through highly concentrated skincare formulations. What matters to us is skincare that is as pure, simple and natural - as you'd find it in nature"  - Andrew Franks